The Ringwood ManuMix System
If your budget is constrained or capacity does not warrant investment in automation, the ManuMix is an efficient, economical system that mixes high quality adhesive with stable viscosity.
The basic system includes our vertical High Shear mixer, electrical controls and accessories for adding starch ingredients. A 30 HP vertical agitator eliminates leaking seals. In the standard configuration, water and starch are added by weight for accurate proportion control.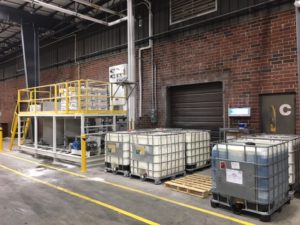 The Skidded ManuMix System is a completely self-contained unit including a 500 gallon stainless steel storage tank.
Reduce corrugator waste significantly
Prepare up to 380 gallons in 30 minutes
Reduce starch consumption by 10-20%
(1) 400-gallon High Shear mixer constructed of 304-stainless steel with dished bottom. The mixer is equipped with a 30 HP, 1800 RPM vertical high shear agitator. This mixer has a capacity of 380-gallon batches in approximately 28-45 minutes.
(1) Digital temperature indicator to display mix tank temperature
(1) Electrical (turbine type) water meter
(1) Water counter (to be located in the control panel found later in this proposal)
(1) 1½" solenoid for water addition to mixer
(2) Heavy–duty 2" L-4125 Viking pump and motor set, with a 5 HP, T.E.F.C. motor, sheaves, belts, guard and floor mounting base. The pump will transfer approximately 40 GPM of adhesive to the storage tank
(1) Viscosity cup
(1) Platform with stairs and railings (approximately 75 sq. ft. area) for access
to mixer and storage tank. Deck to be non-skid floor plate and legs are 3" pipe
(1) 800 Gallon Stainless Steel Storage tank with agitator and TVC control.
(1) Set of electrical controls in a dust and water-tight (NEMA 12) cabinet, pre-wired to terminal strips, consisting of side operated disconnect, control circuit transformer, push button, indicating lights, selector switches and starters with line and overload protection for equipment quoted.
(1) Lot material and labor required to interconnect individual components on a skid-like structure including:
A. Adhesive piping
B. Water piping
C. Electrical wiring between motors and skid devices to our control cabinet
A. Steam Addition
The equipment listed under Item 1 is based on a warm water supply of 105 F. If this water source in not available, the following equipment will automatically heat plant water to the desired temperature:
(1) Ball valve with single acting actuator
(1) Durable check valve
(1) Digital temperature controller
(1) Steam trap
(1) Thermo / couple to sense water temperature
(1) Lot additional electrical controls
(1) Lot additional valves, pipe, and fitting to factory install the automatic steam equipment.
B. Mixer Timer
This item will automatically disengage the mixer's agitators at a predetermined time. This will prevent the "gelling" of the mixer contents to heat generated through agitation.
C. Liquid Caustic Addition
This item includes a pneumatic liquid caustic pump, and precision liquid caustic meter. This allows the use of liquid caustic from a bulk tank or tote bin.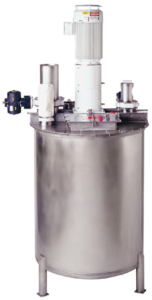 Basic System
Contact us for more information and to order