Years of Ringwood experience and customer iput from around the world led to the development of the RS-3000, the new world standard for starch mixing systems. Today's corrugators have to produce more than ever before with increasing quality requirements. This new reality has increased the need for corrugated adhesive that is extremely high performing, consistent and repeatable. The RS-3000 produces the world's most consistent starch adhesive.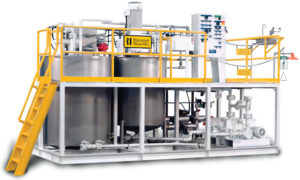 Quickly combine ingredients in a single, easy-to-clean stainless steel mixer.
If your budget is constrained or capacity does not warrant investment in automation, the ManuMix is an efficient, economical system that mixes high quality adhesive with stable viscosity.