The Ringwood RS-3000 Starch Mixing System
Years of Ringwood experience and customer iput from around the world led to the development of the RS-3000, the new world standard for starch mixing systems. Today's corrugators have to produce more than ever before with increasing quality requirements. This new reality has increased the need for corrugated adhesive that is extremely high performing, consistent and repeatable. The RS-3000 produces the world's most consistent starch adhesive.
All our systems are based on the concept of high shear. High shear is the process of adding extreme agitation to eliminate the "false initial viscosity" that's routinely found with Stein-Hall adhesives. The RS-3000 eliminates false readings.
The RS-3000 receives a signal from the adhesive storage tank indicating that a new batch is needed. The system will then automatically add batch ingredients and mix a new batch. The adhesive is then transferred to the proper storage tank.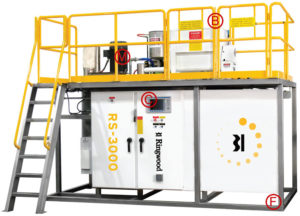 B
Borax/Caustic
Post Dilute Caustic Addition
Lower gel temperature without sacrificing stability
Borax/Caustic
Added by weight for batch precision and reliability
Better accuracy
Borax Cover Proximity Switch
Eliminates operator errors
C
Controls
Allen-Bradley CompacLogix
The finest controls available
High level math for accuracy and flexible batch sequencing
Pearl Starch Added with VFD Driven Auger
Precise starch addition
24 VDC Control
Voltage to meet the latest safety standards
On-Screen System Diagnostics
Remote customer support via Ethernet
32 formula memory (on systems with remote computer operation)
Allen-Bradley Color PanelView Plus
Dependable Allen-Bradley operation
NEMA 4 for wash-up
Flexible Batch Sequencing
Accommodates multiple starch suppliers and future changes
Second PLC for Manual Operation
Gives your operator complete control for any unusual adjustments
Elevated Load Cells
Easier access
Out of wash-up areas
F
Frame
Stainless Steel Frame and Decking
Only stainless steel can handle the harsh conditions in boxplants
Years of rugged reliability
Skid Mounted System
Pre-wired and tested for trouble-free start-up
M
Mixer
400 Gallon Stainless Steel Mixer
Optimum batch size for most installations.
Configured for easy clean-up
Flush Mounted Valves
Eliminates build-up points
High Shear Mixer
Most efficient mixer available
Fewer moving parts
Lower energy consumption ($5 – 7,000 average annual savings)
Contact us for more information and to order